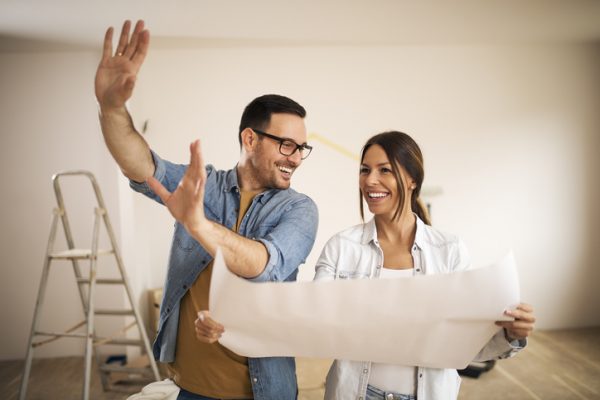 We are spending much more time at home these days, which means we're likely seeing projects and tasks that have been neglected in the past. Maybe they are beginning to stand out a bit more than before, or maybe you are just fixating on the imperfections that no one else really notices. Whatever the case may be the fact is that we are currently in a provincial lockdown, and many of us have time on our hands and some pent-up energy to burn.
Fortunately, this provides us with the perfect opportunity to begin some pandemic projects to get the home looking great for the spring. Most hardware stores are open for curbside pickup, and big box stores currently have no limitations on items they can and cannot sell during this time. So if you are bored and don't mind embracing your creative side, here are a few easy home improvement pandemic projects to get you through the winter months.


Create an Accent Wall
Whether it be with paint, barnboard, shiplap, or tile, creating an accent wall in your house can really transform your space. Check out Benjamin Moore's colour of the year for inspiration on hues that would look great in your home. If you are looking for something more textured, try out some wall mouldings to spice up what may otherwise be a bland looking wall.
Update Your Furniture
You don't have to go all out and purchase thousands of dollars of new furniture to feel like your space has been given a facelift. Instead, embrace your inner artist and repaint some old, dated furniture. Make sure to sand down the piece you're looking to paint, and use a few coats to ensure a solid look. If you want the piece to look distressed, simply rough it up with a bit of sandpaper before you finish. With just some time, a vision, and a bucket of paint you can entirely recreate a piece of furniture to look like something brand new, straight from a magazine. 
Start an Indoor Garden
Maybe you're looking for some signs of life in your house; The kids are glued to their phones, you're working long hours and just co-existing with others throughout the day. Try building an indoor garden! You can plant herbs and spices, or begin planting flowers that can eventually move to your garden. Watching seedlings grow into something beautiful will provide you with a sense of nurturing, and maybe a bit of flavour to add to your Sunday night dinner!
Make a Gallery
Whether it be with your family's hand-painted artistic works or pictures of your time together watching history unfold before your eyes, making a gallery is an excellent project that will add great aesthetic value and keep you smiling through these times. Order photos and have them delivered to your house or buy frames during one of your grocery ones to build a wall filled with memories from the year. You will be sure to look back and remember this time fondly and appreciate the little things much more. 
Declutter
Spring is only a few months away, and as donation centres remain open for drop-off, there is no better time to get a head start on spring cleaning! Pile up everything you don't use, don't wear, or just don't like anymore and make a big drop off to a centre in your community. This will free up space and make your home look cleaner and more organized while making it easier to do your big deep clean come springtime. 
There are so many projects to do to keep yourself busy during this government-mandated downtime. Take advantage of the time you have at home to get in touch with your creative side and transform your living space into something that will keep you smiling for years to come. There is no better time than the present. Seriously.